Tasty Hemp Foods!


Hemp seed produces:

​



​Essential fatty Acids ​

Protein​​​
​​Treat Yourself to Something Sweet
and Healthy!


Enjoy our sandwiches, ​now gluten free!
Sandwiches, pints, cups and cookies are available at:
​
**
​

​use our coupons at these locations
​

Boulder:
​
* Alfalfa's, Boulder CO
​
* Conoco, 55th and Arapaho, Boulder CO ​
​* Sun Deli, Boulder CO ​​(buy pints here!)
​​
​* Lolita's, Boulder CO (Pints here too!)

​Denver:​​

** the Bong Shop, 2728 E Colfax, Aurora CO

​** Allgoods, Buena Vista CO

** the Hemp Store,
Manitou Springs CO

​* Cottonwood Hot Springs,
​Buena Vista​​ CO
* Clint's Bakery and Coffee House, Breckenridge CO​
​ ** Eldorado Corner Market,
​Hwy​ 93 CO (Pints and Sandwiches)
​* Eureka Natural Foods,
Eureka CA
* Hell's Kitchen, Manitou Springs CO
* ​Hemp Fusion, Palmdale CA ​​
​​ * Hempfest Central, Seattle WA
​ * North Coast Coop, Arcata CA
* SLC Hemp, Salt Lake City UT ​
* Tacko, 3115 Fillmore St, San Francisco CA ​
* Villa Grove Trade, Villa Grove, CO​
​* Wildberries, Arcata CA

​​​ Ask your local store to get them!​​
​
If the store where you do get them is not on this list, PLEASE LET ME KNOW! contact tituscoit@gmail.com and give me the details. --Thanks​
​

Hemp Sources Inc.
P.O. Box 7137
​Boulder, Colorado 80306
(303) 237-3579
Your support matters.
Hemp for Victory!
Would you desire Hemp I Scream! at an upcoming event in the Boulder-Denver metro area? We can supply individuals with cases at a wholesale price. For inquiries call Titus at
​720-416-9296
For a surprising treat, Laina suggests you try getting together 1 pint of Mocha Mint Hemp I Scream!, some carrot juice and at least 1 friend or someone who should be. Make floats with your preferred ratio of Scream! to juice and notice how delightfully it turns into a "shake" before you're done. (You know how that poke, stir and taste technique changes the texture as you enjoy the experience.)

F​eel free to use Double Dutch Chocolate instead of Mocha Mint, they are equally fantastic depending on which you prefer in general.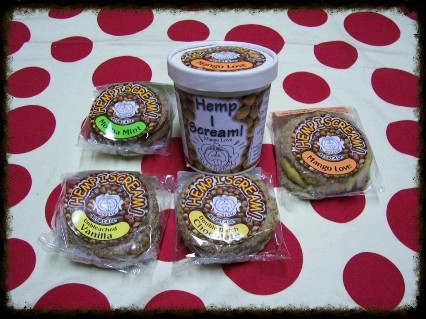 Hemp I Scream!

is a vegan soy, almond, and rice free frozen confection which comes in five flavors: Mocha Mint, Jasmine Flowers, Mango Love, Double Dutch Chocolate, and Unbleached Vanilla. These can be sandwich, cup, or pint sized, and there is a limited amount of custom flavoring upon order of six cases or more.