Tasty Hemp Foods!


Hemp seed produces:

​



​Essential fatty Acids ​

Protein​​​
​​Treat Yourself to Something Sweet
and Healthy!


Enjoy our sandwiches, ​now gluten free!
Sandwiches, pints, cups and cookies are available at:
​
**
​

​use our coupons at these locations
​

Boulder:
​
* Alfalfa's, Boulder CO
​
* Conoco, 55th and Arapaho, Boulder CO ​
​* Sun Deli, Boulder CO ​​(buy pints here!)
​​
​* Lolita's, Boulder CO (Pints here too!)
Denver Area:

** Coffee Canaan, 8989 E Colfax, Aurora, Co at the entry to the MLKjr Library (sandwiches and cups [make it a smoothie!])
*​* the Bong Shop, 9728 E Colfax, Aurora CO

​** Allgoods, Buena Vista CO

** the Hemp Store,
Manitou Springs CO

​* Cottonwood Hot Springs,
​Buena Vista​​ CO
* Clint's Bakery and Coffee House, Breckenridge CO​
​ ** Eldorado Corner Market,
​Hwy​ 93 CO (Pints and Sandwiches)
​* Eureka Natural Foods,
Eureka CA
* Hell's Kitchen, Manitou Springs CO
* ​Hemp Fusion, Palmdale CA ​​
​​ * Hempfest Central, Seattle WA
​ * North Coast Coop, Arcata CA
* SLC Hemp, Salt Lake City UT ​
* Tacko, 3115 Fillmore St, San Francisco CA ​
* Villa Grove Trade, Villa Grove, CO​
​* Wildberries, Arcata CA

​​​ Ask your local store to get them!​​
​
If the store where you do get them is not on this list, PLEASE LET ME KNOW!
​Contact gaialaina@gmail.com and give me the details. --Thanks​
​

Hemp Sources Inc.
P.O. Box 7137
​Boulder, Colorado 80306
(303) 237-3579
Your support matters.
Hemp for Victory!
Do you want to see Hemp I Scream! at an upcoming event in your area?
​Be the one to take it there! We can supply you with cases at a wholesale price. For inquiries call 303-237-3579!

For a surprising treat, Laina suggests you try getting together 1 pint of Mocha Mint Hemp I Scream!, some carrot juice and at least 1 friend or someone who should be. Make floats with your preferred ratio of Scream! to juice and notice how delightfully it turns into a "shake" before you're done. (You know how that poke, stir and taste technique changes the texture as you enjoy the experience.)

You can use Double Dutch Chocolate instead of Mocha Mint, they are equally fantastic depending on which you prefer in general.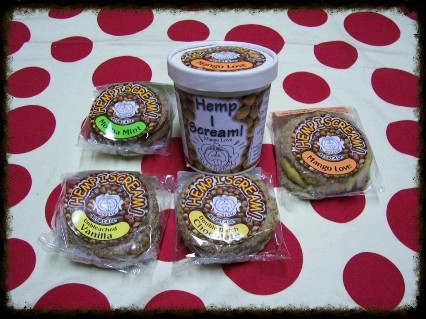 Hemp I Scream!

is a vegan frozen confection (free from soy, rice and tree nuts) which comes in five flavors: Mocha Mint, Jasmine Flowers, Mango Love, Double Dutch Chocolate, and Unbleached Vanilla. These can be sandwich, cup, or pint sized, and we are delighted to provide custom flavoring upon order of six cases or more.
Double click here to edit this text.